Privatisation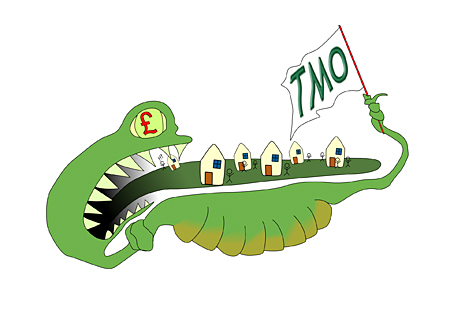 Cartoon by Daniel J. Kwiatkowski
The TMO in development group swear blind that there will be no privatisation.

Do you believe them? We don't. Their promises cannot be believed because we do not know what might happen in future - especially in these troubled times.

TMOs have been privatised all over the country and stock transferred to Housing Associations.

Recently, it emerged that three Lambeth TMOs are going to ballot for Stock Transfer to a Housing Association, as "the only way to get money to upgrade their estate". Oh-oh...

If it can happen in Lambeth, it can certainly happen here. VOTE NO to the TMO to be safe.

Here's the actual words from the

Lambeth Alliance of Tenant Management Associations (LATMOS) and Open Communities (consultants):


"Much has happened since our last newsletter which talked about the future of the estates, including a possible transfer of the ownership of the homes from the Council."

LATMOS newsletter 09-03-09

"Description : The aim of this project is to facilitate the tenant led stock transfer of approximately 1100 council properties located on three estates managed by three tenant management organisations."

"It is anticipated that the stock transfer proposal will be put to tenants to prepare for a ballot in February 2011. "

Click here to go to the original document.

Vote No to the TMO
As the ballot nears we need more volunteers to join our campaign to ensure our homes are safe for the future. Or please donate - we are using our own money, they have lots of taxpayers (our) cash.
Contact us email:
Vote No to the TMO