Summary

The Unwin and Friary Tenant Management Organisation (TMO) in development started in December 1999, eleven years ago.
Since then it has burned through over 213,175 pounds of taxpayers money! (Southwark Council and Government figures).
Where did this all go? We think mostly into the pockets of fat cat consultants who are in the business of promoting TMOs as the best thing since sliced bread at a cost of £64.62 per hour.

The secretive TMO Board of Directors won't hold public meetings where they will be questioned

Financial irregularities - £18,788 has never been satisfactorily accounted for and they stopped paying the £500 per year they should do for their office in the TRA hall

They try to suppress criticism of their activities

They make exaggerated claims of how much money they have raised for the Estate - in many cases this money would have been raised anyway

They do not comply with Council agreements

The TMO does not have an adequate constitution and is in breach of several laws*

The 4 Page "Business Plan" they circulated to every home on the estate in August 2010 had NO FINANCIAL INFORMATION IN IT!!!! Dodgy or what?
*We are investigating this further and will keep readers of this website updated
Why on earth would we want a bunch of irresponsible people like this to have ABSOLUTE POWER OVER OUR HOMES? THE TMO IS A PRIVATE LIMITED COMPANY, AND IN REALITY, THE COUNCIL HAS VERY LITTLE CONTROL OVER WHAT THEY DO.

Why do the TMO Board of Directors want to do this work, apparently unpaid?

How about One Million Pounds. That's right, that's the budget they will get off the Council.

Think of how many opportunities there are for misuse of those funds. Unfortunately some TMOs get into trouble over irresponsible financial practices, which are then covered up so that council officials do not get any blame.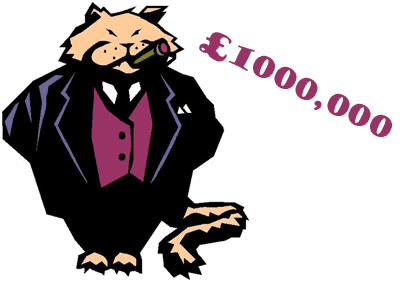 Vote No to the TMO
As the ballot nears we need more volunteers to join our campaign to ensure our homes are safe for the future. Or please donate - we are using our own money, they have lots of taxpayers (our) cash.
Contact us email:
Vote No to the TMO